REFERENCE LETTERS
~REFERENCES~
We got our baby a few weeks ago and he has been a blessing. From the moment I emailed Joann I knew that her babies were taken care of. She was very helpful in the process of purchasing our new baby and even met me halfway. She answered any questions I had and was even available by phone the same night to answer more questions. Jax has been awesome and is 98% tray trained...this little guy even understands "sit". I am trying to talk my wife in to purchasing another pup to give Jax a friend,,lol. All in all my experience with Shedds Shih Tzus has been very pleasant and I would recommend her to anyone. The deposits are reasonable and you can trust them. After taking Jax to the Vet he said his only problem is being spoiled rotten!!! Gave him a clean bill of health and said he was in perfect shape. I think this was the best thing I could have brought in to my family.

Thanks,
Chris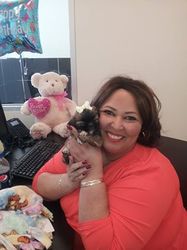 I wanted to wait until I had my puppy for at least three days; but she is the best puppy I have ever had. She is only six weeks old and she will not go on the mat or in her crate on the mat, she know she is special. Coco Chanel goes out side to potty, she barks to let me know she has to go, she sleeps in her crate at night all alone, never makes a noise til she has to go out. I am convinced this is a result of great breeding, and the type of environment that she came from. Joann does such a great job with her dogs, I have recommended her to every person that I can think of. I am having such a great experience with my little girl. Thank you Joann for doing such a great job up front and caring about the type of animals that you breed. God bless you.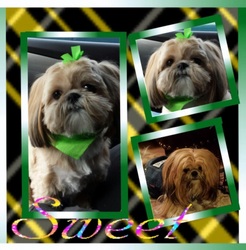 On January 13, 2013, I lost my 17-year-old Shih Tzu, Logan, to seizures. My heart was broken and I said that I did not want to go through that awful experience again! But as the week progressed, my home was so empty that I could not bear it. I began scouring the internet for puppies and that night I ran across the picture of the most adorable little Shih Tzu that stole my heart! I began investigating and found Shedd's Shih Tzu's and at 11:30 p.m. I emailed Joann about this little sweetheart! She answered me immediately which then prompted a phone conversation and I found out I was talking to an amazing lady! Needless to say, this sweet lady even offered to meet me half way to bring me my baby!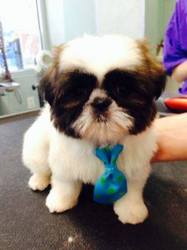 I wanted to thank you for my beautiful puppy Max he is such a great puppy. He wentoday got his first haircut at the groomer and they all loved him. Everywhere I take him ttake himeverybody wants one. JoAnn has been great to work with she is trust worthy and keeps hereverybody wants one. JoAnn has been great to work with she is trust worthy and keeps herword. The puppies are well taken care of as they are part of her family. Max is so sweeand when we got him he went to the pee pad which was great. If you get one of JoAnn'S babies you will not be disappointed. Glenn & Renee Lt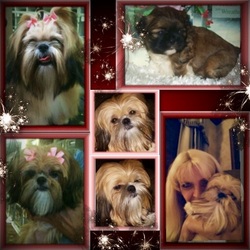 We were visiting Lawrenceburg for a Gospel sing and saw Ms. Joann Shedd's web site for Shih-Tzu puppies. We went to see the new litter. Her kennels were extremely clean and the dogs were well taken care of and she has all her litters examined by her Veterinarian. She is also endorsed by the AKC association. As I looked at the puppies I noticed the exact one I had been looking for...tan, female, runt of the litter. Needless to say we purchased her. After picking up our puppy and arriving home we had her check by our veterinarian and he said she was in excellent health for a 1 pound puppy. We love our Nicki Erin and Leigha would recommend purchase of a puppy from Ms Joann.